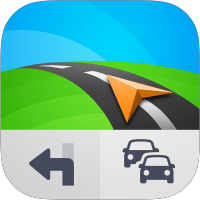 Sygic GPS Navigation
North America
North America + Traffic
World + Traffic
Offline maps with free map updates
Speed limits
Voice-guided navigation
Fuel prices
Dynamic Lane Assistant & Junction View
Junction View
Real-time route sharing
Real-time Traffic Information
Worldwide map coverage
Premium
North America
Lifetime license for Android
Offline maps with free map updates
23
offline maps
Dynamic Lane Assistant & Junction View
Real-time Traffic Information
Most popular
Premium
North America + Traffic
Lifetime license for Android
Offline maps with free map updates
23
offline maps
Dynamic Lane Assistant & Junction View
Real-time Traffic Information
Premium
World + Traffic
Lifetime license for Android
Offline maps with free map updates
195
offline maps
Dynamic Lane Assistant & Junction View
Real-time Traffic Information
Add-ons
You can make Sygic GPS Navigation even better by buying one of these add-on options.
-50%
Real View Navigation
This innovative feature uses your phone's camera to display the navigation instructions over the view from your car.
-50%
Head-up Display
Head-up Display projects navigation directly into your line of sight, onto the windshield of your car. For safer driving at night.
-50%
Cockpit
Cockpit is a powerful tool that shows you the real-time performance of your car. Cockpit will measure the G force and your actual speed to help you drive economically.
-50%
Dashcam
Dashcam records the road ahead while you are navigating and automatically saves the video in case of an accident.
Lifetime license – What does it mean? Do I pay once, monthly or yearly?
All Premium and Premium + Traffic licenses have lifetime validity. This means that you only pay once and there are no further payments necessary in the future. You will also get all future app updates and 3 map updates per year free of charge.
Do I need an internet connection to use Sygic?
Internet connection is not necessary to use Sygic GPS Navigation as all maps are stored on your device. Search, route planning and navigation work completely without internet. Internet connection is necessary if you wish to use features Traffic information, Fuel Prices, Route sharing, Mobile speed camera warnings and Parking information.