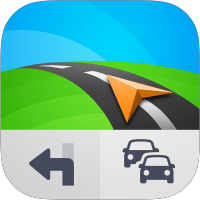 Sygic GPS Navigation
Try Premium+ for FREE
and unlock all features for a safer and more comfortable drive.
How to subscribe
7 days for free, then 19.99€/12 months
What you will get
Offline 3D Maps with monthly updates

Keep the best route even without internet connection

Android Auto and CarPlay connectivity

Mirror your navigation via car connectivity to a car screen

Speed limits + Mobile speed cameras

Adjust your speed thanks to early alerts

Lane assisstant

Be always in the right lane to avoid wrong turns

Real-Time Traffic Information

Get information on the traffic, updated every 2 minutes

Sign recognition

Real-time sign detection using your phone's camera

Head-up Display

Project the navigation instructions onto a car's windshield

Real-View Navigation

Display the instructions over the view from your car
Premium+ subscription – What does it mean?
The Premium+ subscription is free for 7 days. Your trial will renew automatically unless you cancel it. You can cancel your subscription anytime. While subscribed, you will get access to all Premium+ features, including all future app and map updates.
Do I need an internet connection to use Sygic?
Internet connection is not necessary to use Sygic GPS Navigation as all maps are stored on your device. Search, route planning, and navigation work completely without the internet. Internet connection is necessary if you wish to use features Traffic information, Fuel Prices, Route sharing, Mobile speed camera warnings, and Parking information.